We didn't eat out often at all when I was a kid. If we did, it was a rare and exciting treat at the Dairy Queen or the A&W. Best root beer ever, in those frosty mugs! Once the tray of food was affixed to Dad's window, he would pass our burgers, fries, and root beer back to us. I could have survived on the aroma alone 🙂
But if you'd asked me about my favorite dish, it was–and still is–something homemade.
Mom was a great cook, taking so much pleasure in setting a table filled with aromatic, beautiful, and tasty food. My favorite? Her pot roast. Closely followed by spaghetti and meatballs, and an old-fashioned casserole called Shipwreck. Hamburger, potatoes, rice, carrots, onion, kidney beans, and tomato soup. Also, Meatball Oven Dish. Mom made hers in the Presto pressure cooker rather than the oven. Deeeelicious. She made great potato salad, fried chicken to die for, and of course no end of luscious–fattening–desserts 🙂
She also, using the word in another sense, loved her dishes. She grew up in the Depression, dirt poor. No fancy dishes, nothing that matched, and quite a bit that was chipped or cracked. She didn't have a full set of china until their 25th anniversary, and how she loved those dishes!
Later, she began collecting pink scalloped depression glass. She had quite a lot by the time she went to heaven. I'm not sure what happened to it.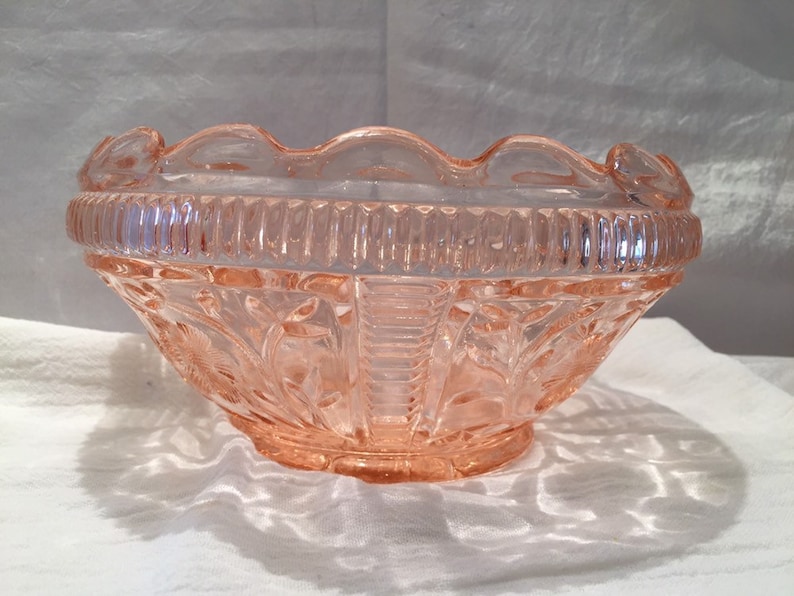 She had plates, saucers, cups, some serving pieces–I don't remember it all. She gathered most of her collection after I was married and they moved to South Carolina.
It got it's name from the Great Depression. Manufactured here in America, it was inexpensive and sometimes free. Quaker Oats, for instance, would put a piece of the glassware in every box of oats as an incentive to buy their product. Since the 1960's, it has increased in value because it has become highly collectible. Complete sets, including serving dishes, candle holders, dessert fans with a place for a cup and a piece of cake or pie, would bring a better price than just a few miscellaneous pieces.
I think she loved her depression glass just as much for the memories it evoked as for it's appearance. It was pretty, but it was also nostalgic. If you lived during the Depression and WWII, you understand that, right?
These days, brides expect to have a full set of china before they even say "I do." My mom and dad gave me mine, and I still love it. I didn't expect it, though. It was a gift, especially for Mom, that she would love to have received. She took great joy in giving it to us.
Dishes. Lots of stories. Someday, I would love to make a Broken China quilt. There's history and heartbreak there.