Daily Prompt: Young Adult
What happens when you begin working at the same yogurt shop as your crush?
**********************
Maddie was stomach-churning nervous. First job, other than babysitting. She'd be able to start putting money away for college on a regular basis.
At 16, Maddie was a 4.0 student, and would take almost all AP courses in the fall. But before that, she had this whole summer to work, play, and rest. She and her family lived on a beautiful lake, perfect for swimming right off the dock. She could swim year-round in their southern California climate. Doing so helped her stay trim and strong. Her girlfriends told her she had the best bod of all, but sometimes she was pretty sure there was a little of the green glint of jealousy in their eyes. She wasn't concerned about it, as long as she stayed healthy. She also enjoyed martial arts. She really was in pretty good shape.
As she got ready for her first day at work, she brushed her shoulder-length, natural blonde hair until it gleamed. She had to admit, she did like her hair. It had just enough wave to make it interesting. She fastened it back with a gold clip, thinking about the hat she would have to wear at work. Yuk. She hated hats. But the yogurt shop, from all she'd heard, was a great place to work, and she was excited to start.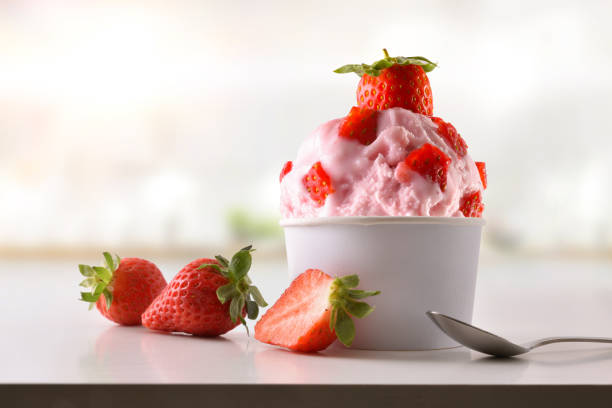 She would be getting a couple of uniforms today. White pants, red and white striped shirts. Not her best color, but it would have to do. She glanced at her deep brown eyes, inherited from her mom, and shrugged. The standard of California beauty, with her blond hair, was blue eyes, but oh well.
"I'm on my way to work, Mom," Maddie sang out as she headed to the door. She paused, knowing there would be questions.
"Do you have your cell? A little money? Did you brush your tee—"
"MOM! You don't have to ask me that any more!"
"Well, it's your first day. It's easy to forget things when you're nervous. Okay, Honey, have a good day. See you at supper. We're probably going to grill out on the patio."
"Yup, see you later!" Maddie danced her way to the car, her very own, not an expensive new one like some of her friends had, but it would get her where she needed to be. The main reason her parents got it for her was so no one would have to take her back and forth to work.
Traffic was light in their small town. Maddie was glad for that. Heavy traffic made her nervous. It took her only 15 minutes to pull into the employee parking slot. Gathering her small bag and her keys, she smoothed down her sky-blue tee and walked into the shop through the back door.
And came face-to-face with the only guy in school who gave her butterflies. He was wearing a uniform, which meant he worked here. Here, in the same yogurt shop she did.
Her heart did a somersault. She could feel the blush creeping upward from her neck to her hairline. She SO wished she could be one of those cool, self-possessed girls who pulled that same reaction from the guys! Not her, though. No, she stood there with her teeth in her mouth, with no words to say to this amazing guy she had crushed on since she was in 7th grade and he was in 8th. And he'd never, ever once noticed her or even looked her way. She'd kept her secret to herself, not trusting any of her friends to keep their mouths shut and certainly not willing to suffer the embarrassment of knowing he knew. She figured it was hopeless, and now here she was, face-to-face with the one guy she'd ever cared about.
Brady grinned. "Hey! They told me a new girl was starting today. I guess I'm your trainer for the next couple of days, so we'll be spending a lot of time together. You ready to go to work? Oh, you can put your stuff in this locker. There's a combination lock on it, but you still probably shouldn't bring a lot of money here. And no cells while you're working, so you can either store it here or just turn it off if you want to keep it with you. But seriously, no calls. You'll get only one warning. The second time, you're fired! They're pretty uptight about that. Older people, you know. They just don't see why we're so glued to our phones. But I'm running off at the mouth. You ready?"
"Sure. Be right there." Maddie was thankful that her voice hadn't come out in a squeak. She stored her things, including her phone, in the locker. She quickly memorized the combination, then followed Brady out into the shop. This early in the day, it was quiet, only a couple of people enjoying their cups of frozen yogurt at the little tables in the front of the store.
"Okay, first, I guess we need to say our names. I'm Brady, You?"
"Maddie."
"We go to the same school, right? I'm pretty sure I've seen you before."
"If you're at the high school, yeah, we do." What a liar she was, thought Maddie. Of course she knew they were at the same school. She even knew where his locker had been the previous year, and what homeroom he'd had. He, on the other hand, had no idea who she was.
I'll be a junior this fall. You're not in my class, or I'd know you."
"Sophomore," she responded quickly. She didn't like to talk about school with kids she didn't know. They seemed to get the idea she thought she was, like, superior or something because of her grades. So she just didn't go there.

"Okay, well, maybe we'll bump into each other when school starts up again. In the meantime, let me show you where things are, and how to work the machines. It's pretty simple once you get the hang of it."
The owner/manager came in while Brady was explaining things, and greeted them both. She was pleasant, but not chatty. Business, all business. "Did you tell Maddie about the phone rule, Brady?" was all she said. When Brady indicated that he had, she nodded and went into her office.

"Wow," said Maddie.
"Yeah, but she's cool," said Brady. "Just not a talker, which is fine with me."
The six-hour shift went by fast, and Maddie's head was full of all she'd learned. While she finished wiping down a couple of tables, Brady said, "Tomorrow, I'll let you take orders and run the register, I'll be right there if you have any trouble, but the more you can do on your own, the faster you'll get it. See you then!" And he ducked out to the back and was gone before Maddie rinsed out her rag and hung it up to dry. She smiled and waved at the kids who had come in to do the next shift, and made her own exit.
*******************
(This story is growing, so I'm going to let it "be continued." Maybe tomorrow, maybe Monday 🙂 )
***********************
Part Two
Brady backed his old beater of a Ford out of his spot, catching a glimpse of Maddie as she exited through the back door. "What a hottie," he smiled to himself. "Why haven't I ever got up the courage to talk to her before? All these years, and she doesn't know I even exist. Well, karma must be in my favor. So cool that we'll be working together all summer. I'll get to know her a little, then maybe asker out."
Maddie had no idea what a hot topic she was with the guys in school. She never flirted. She never came on to anyone.She was such a knockout, they couldn't figure out why she kept her distance. They knew she was a brainiac, and for some of the guys, that was a deal-breaker. No guy wanted to date a girl who was smarter than he was, right? Still, Maddie was a babe. Some of the guys dared each other to approach her, ask her out, but no one ever did it. Something about her, like some kind of weird force-field or something, kept them from getting another closer than "Hi, how ya doin'?" To which she always smiled, said she was cool, and that was the end of it.
Brady had watched her since he was in 8th grade. He'd first noticed her when they were both in junior high band. He played trumpet, she played flute. She'd never looked his way, always concentrating on her music or chatting with the girls. She was the center of a whole bevy of girls. Cutting her out of the herd was next to impossible. He'd watched her change year by year, from skinny to–well–curvy; from cute to beautiful, from shy to confident. Four years, and Brady, big shot quarterback starter this coming fall, chased by every other girl he could think of, hadn't worked up the courage to approach her.
When the other guys started talking about her in the locker room, he shut down. It made him furious when they talked down about her, each guy wanting to believe he'd be the one to break through and take her out. They all gave each other these big shot, knowing grins, as if they had the inside track. Made him want to break some jawbones. Brady had been taught better than to participate in these trashy conversations, and he'd gotten out of there faster than any of the others. He felt protective of Maddie, for no legitimate reason whatsoever.
His drive home was filled with thoughts of spending the whole summer working with her, getting to know her, maybe going out a few times. Well, maybe. If he could man up and ask her, and not be such a dork.
********************
"Mom, I'm home!" Maddie called out as she hung her key on their own hook.
"Hi, Honey! How did it go?"
"It was great. I learned lots of stuff, how to work the machines, where all the toppings and fruit and sprinkles are, how to fill the trays. It wasn't busy, so it was a good day to start. I think I'm going to like it, Mom."
"Well, I'm really glad to hear that. Listen, if you want change clothes, go do that. I could use your help getting supper under way."
"Sure, I'll be back down in just a few minutes." As she ran up the stairs, Maddie's mind was full of her day with Brady. She wouldn't mention him to Mom, because she would totally freak out. She was dying for Maddie to have her first boyfriend, but at the same time she was a protective mama bear. Weird. So Maddie had learned just not to mention any guys, and things went nice and smooth that way.
Supper was fresh fish from the lake, with a big salad and fresh garden veggies, along with Mom's homemade dinner rolls. Great food, and the weather was perfect. Maddie relaxed, listening with one ear to her parents chatting about this and that. Her mind, however, was all on Brady. At least she knew she'd see him, talk to him tomorrow. She thought about how tall he'd grown since 8th grade; how broad his shoulders were. He'd started getting some dark fuzz along his jaw and upper lip, which she thought was very cool. His hair was dark, curling a little behind his ears and along the back of his neck. He had the California blue eyes she wished she had, kind of like they had a light source of their own. He had a great smile, especially now that he was done with his braces. He was athletic, something she admired, and she was pretty sure he was a good student. What girl wouldn't feel lucky to be working with such a great guy all summer? And she loved his voice. Deep, strong, resonant. She thought he was probably a good singer. Maybe she'd get to find out.
Maddie was up bright and early the next day, eager to get back to the yogurt shop. She didn't have to decide what to wear now that she had her uniforms. She pulled her hair into a high pony tail and pulled it through the opening in the back of her hat. Not much makeup–a little lip gloss, a tiny touch of mascara. The butterflies were beginning to wake up in her stomach as the time came for her to leave for work.
They met in the parking lot. Brady's smile seemed relaxed and easy, and Maddie tried for the same effect. "Hey, Maddie. You ready to learn the menu, register, and all that?"
"I guess so. Kind of nervous. It seems like a lot to learn in just one day."
"No, don't worry," Brady assured her as they walked to the door of the shop. "No one expects you to have it all down perfect today. It takes a little time and practice. I had a hard time the first day on the register, Poor girl who trained me must have thought I was a total moron. You'll be fine." He held the door for Maddie, having no idea at all how impressed she was with his good manners.
The day flew by. She messed up; he helped her sort it out. She was embarrassed; he laughed it off. Gradually, things seemed more familiar, and as her confidence grew, she relaxed. Soon the two of them were laughing together, at ease with each other, and Maddie felt she'd found her groove.
Just before her shift was over, a group of girls came giggling through the door and made a beeline for Brady. Their flirting was, in Maddie's opinion, more than a little embarrassing. When Brady tried to send a couple of them to Maddie to take their orders, they cooed and batted their lashes and said silly things like, "Oh, Brady, we came to see YOU!"
One of them broke away from the herd. She sauntered to Maddie's station, smiling but not really. "So, when did you start working here? Maddie, right?"
"Yesterday. And you're Shelly, right?"
"Right." Shelly leaned in, practically nose to nose, and whispered, "You keep away from Brady! He's MINE! Get it? Don't make me warn you again! Hands off!" She spun away back to Brady's station, leaving an astonished Maddie gaping after her. None of the girls ordered anything, and soon they were leaving. Shelly turned back to Brady, gave him a slow under-the-eyelids look, and said, "Give me a call, Brady."
Once the door had closed behind them, Brady shook his head and turned to Maddie with a very red face. "I heard what she said to you. It's not true. We've never gone out, and I never would want to. She's trouble, and she had no right to say what she did. You okay? She didn't say anything else, did she?"
"I'm fine. And no, she didn't. Good grief! That was, like totally embarrassing! "
"Don't give it another thought. She changes guys like most girls change shoes. You know, pick a guy to go with your outfit," Brady grinned. "Seriously, she's not worth another thought. So–you ready to clean up and check out?"
"Yes. Definitely. I need to check my schedule before I go. My folks want to know when I'll be working next week."
"No problem. I can tell you that, anyway. You start this same shift four days next week. You have Wednesday free. Saturday hasn't been scheduled, and you're not on the Sunday schedule either."
"Oh! Well, um, thanks for checking for me. . ."
"I just happened to notice that we're on the same schedule next week. That happens when someone new is being trained in. They try to keep you with the person who got you started. So–see you Monday?"
"Monday. Have a good weekend, Brady."
*****************
(Part 3 coming up. I honestly have no idea where this is going, but it's been fun to write it and find out 🙂 )
**********************
Part Three
The days went flying by. Maddie and Brady worked many shifts together, and became comfortable being together. When Brady finally asked her for a date, it was easy to say, "Sure, I'd love to." After that, it was a weekly event. They went to summer league baseball games between the hometown team and other towns in the area. They went to concerts in the park, and movies in the park, and the swimming pool in the park. Finally, Maddie invited him to come swimming off their dock, and they had a great time with her family. They took long walks, sharing things with each other that they'd never shared with anyone else.
Maddie's girlfriends were crazy supportive, wanting to hear every minute of each date. One day, though, they warned her that Shelly was making all kinds of threats, and that Maddie needed to be careful. Shelly didn't come back into the shop again, at least not when Maddie was there. Life was too good to worry about mean girls!
School opened after Labor Day. Maddie and Brady had spent the day at her place, with her family and other friends, and enjoyed fireworks as darkness closed in. It had been the best summer ever. All the same, Maddie looked forward to the school year, anticipating her AP classes. She didn't expect to see as much of Brady once football got under way, but they still did most of their shifts together at the shop.
At the end of the first week of school, Maddie was at her locker, organizing her weekend homework, when someone grabbed her arm and slammed it up against the locker. She whirled, and found herself facing a very angry Shelly. Her squad of followers stood in a half circle, grinning in anticipation.
"I TOLD you to stay away from Brady. I TOLD you he's mine! I TOLD you hands off, and I TOLD you not to make me warn you again! Now it's payday, Maddie!" And Shelly swung hard, with an open palm, smacking Maddie's face while pulling her hair with her other hand.
She hadn't anticipated Maddie's strength, or her training in Tae Kwon Do. For the first time ever, Maddie was using her knowledge to protect herself, and doing so effectively. Screaming girls surrounded them, joined quickly by guys who enjoyed watching a girl-fight. It didn't take long for a couple of teachers and the principal to enter the battle, hauling the two girls apart. Shelly, breathing hard, shouted, "SHE started it! She HIT me! She's CRAZY!" and she started to cry like a baby when one of her pals handed her a tissue to blot her bloody lip.
"Is this true, Maddie?" asked Principal Tucker.
"No! She slapped me, pulled my hair, and I fought back. She's lying."
An uproar of voices rose, and Principal Tucker had to wait for it to settle down. Then, to Maddie's relief, a strong, deep voice rose over the crowd. "Mr. Tucker, Shelly has threatened Maddie before. Shelly seems to think she has some kind of relationship with me, and it's not true. Maddie and I have been dating for a couple of months. Maddie doesn't lie, not even to protect herself."
There was a general murmur of agreement, except for Shelly and her fan club. Mr. Tucker hushed them all, and took the two girls to his office. He had them wait outside his office, where they faced off in silence, while he phoned both sets of parents. While they waited for the parents to arrive, Principal Tucker had Maddie to her story to the vice principal, while he and Shelly went into his office.
Shelly's mom and dad got there first, glancing at Maddie, showing no expression as they entered Mr. Tucker's office. Maddie's parents came in soon after, and Mr. Tucker invited the parents to stay while the girls waited outside his office. Again, Maddie and Shelly were silent. Shelly let a tear fall now and then, while Maddie could feel the burn on her cheek where Shelly had slapped her.
Soon, Mr. Tucker called the girls into his office. "Do either of you two young ladies want to change anything in your statements about what happened?" he asked. Both Maddie and Shelly shook their heads no.
"All right, then it seems we have to call in some witnesses. Maddie, we won't be calling Brady; and Shelly, we won't be talking to any of your group. We'll call in some kids who are not involved with either of you, and what we learn from them will decide our course of action. I will warn you that, obviously, one of you is lying. It will go harder for you because of the lie. You need to think about that. Now, because it's Friday, I'm not going to suspend either of you until we get to the bottom of this. All right, you may go. I want to thank both sets of parents for coming in, and for being so supportive of my desire to find the truth. I'll be talking to you again next week, after we do some student interviews."
Maddie felt sick. She'd never been involved in anything like this before, and she felt shamed and humiliated even though she'd done nothing more than defend herself. She glanced at Shelly as they headed to their cars, but Shelly wasn't looking up at anyone.
It was a quiet weekend. Brady called, but work and football were going to keep them from spending any time together. Maddie focused on her homework, and some assigned reading for AP Literature.
She dressed carefully on Monday, wanting to look like herself but quiet, nothing to attract attention. Brady met her on the sidewalk as she neared the building. "You doing all right, Maddie? I wish they'd talk to me about what happened! Everybody's talking about it, and most of them agree that Shelly started it. I can't believe she would take it this far. It's just crazy!"
"I'm fine, Brady. You know they can't talk to you–you're prejudiced!" she joked.
They were quickly surrounded by friends, both hers and Brady's, and they talked and laughed as they entered the building.
Shelly and her friends, on the other hand, were very quiet. No giggling, no flirting. Shelly's eyes were red and bloodshot, and Maddie almost–not quite, but almost–felt sorry for her. She was very surprised when the whole group approached her at her locker, and she was glad Brady had seen them and was coming toward them in a hurry.
But Shelly wasn't aggressive. She took a deep breath, trying to calm herself. She couldn't quite make herself look at Maddie, so she aimed her eyes just over Maddie's shoulder. "I–um–I talked to Mr. Tucker after everyone else left on Friday. I told him what really happened. He says I have to apologize to you. He even told me what I have to say, so here it is: Maddie, I'm sorry I threatened you. I'm sorry I hit you and pulled your hair. I'm sorry I lied. Okay? Are we good now?" By this time, Shelly was gulping for breath, tears flowing, her face flaming. Maddie actually did feel kind of sorry for her.
"Yes, we're okay, Shelly. I hope I didn't hit you too hard."
"Well, if I'd known you could do that Kung Fu stuff, I probably wouldn't have started anything," Shelly said, and finally there was the hint of a smile in her eyes. "You're pretty good."
"It's fun! You should try it. New classes are starting next week."
The first period bell rang, and they dispersed to various classes. Some of Shelly's friends dared to glance at Maddie and offer timid smiles. Maddie smiled back.
Brady tugged her pony tail. "You're a good kid, Maddie. You handled all that like a pro."
And Maddie floated on a cloud to her first class.
The End