Ragtag Daily Prompt: Atavism (In biology, an atavism is a modification of a biological structure whereby an ancestral trait reappears after having been lost through evolutionary change in previous generations.)
*********
If the theory of evolution is to be believed, then picture this:   A delivery room in the maternity ward of a 2018 modern, state-of-the-art hospital.  A normal, healthy woman has just given birth, but she hasn't seen the baby yet.  Maybe she never will. . . .?
"Doctor, what is this?  What has happened here?"
"I'm not sure, Nurse Jones.  Both the mother and the father appear to be normal, fully evolved humans.  There doesn't seem to be an explanation for this. . . .this. . .tissue."
"But it was a full-term delivery, wasn't it?  The baby should  be fully-formed?"
"Yes, of course."  Irritated, the doctor held the seven-pound mass of jelly-like tissue in a basin.  He couldn't take his eyes off what appeared to be a sucking mouth, and the rhythmic throb of the mass. Nothing else would identify the thing as having life, or certainly of coming from a human mother.
It looked like a giant amoeba.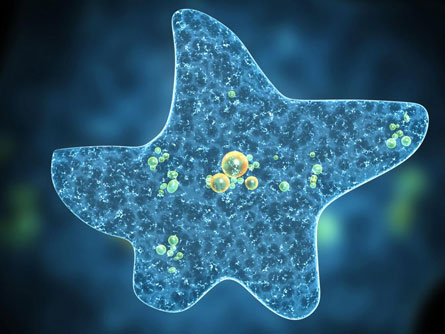 "The mother is asking to see her baby.  What are we going to do?"
"I don't KNOW, Nurse!  Put her off.  Tell her we sent the . . . baby. . . for testing.  Tell her anything you want.  We just can't show her this!"
Shaking her head, the nurse moved to the bedside of the waiting mother and lied to her.
The doctor pondered the thing he held, with the word atavism circling through his mind.
https://lindaswritingblog.wordpress.com/2018/06/13/return-to-the-original?/