Write a post in which the protagonists of two different books or movies meet for the first time. How do they react to each other? Do they get along?  Christine Goodnough, this is a GREAT idea 🙂
****************************
Elizabeth Bennet was nervous.  She'd been traveling for three long, jolting, dusty days in the small closed-in carriage, accompanied by her maid and driven by her father's coachman.  It felt as if the trip would never end, and she sorely missed the company of her husband of only one year, Fitzwilliam Darcy.   He hadn't wanted her to make the journey alone, but business matters kept him at their estate.
How she missed that estate!  Rolling green lawns and terraces planted with every variety of flower Elizabeth could imagine; a summer house that she loved, and a pond for fishing or boating. She was just getting used to being the mistress of such a magnificent place, of having a housekeeper who ruled the roost and a cook who competed with the housekeeper for authority. Elizabeth had learned how to keep them all happy, balancing her natural friendliness with just the right air of  The Quality to keep order in her household.
She laughed to herself as she thought about being part of "The Quality."  Indeed, she would never be as high in the instep as Darcy's snooty Aunt Catherine deBourgh, who was still not reconciled to Darcy having married so far beneath him.  Mostly, she was angry that Darcy hadn't married her sickly daughter.
She was truly nervous, though, about meeting the woman at the end of this journey.  Her friend Estella had wirtten to her and begged her to come to visit for the express purpose of cheering her elderly, crazy aunt out of her lifelong doldrums.  Estella believed that Elizabeth had just the right combination of humor and good sense to be able to persuade  her Aunt Eleanor Havisham out of her self-imposed gloom.
Estella had met Elizabeth in Town during the short time Elizabeth had spent there after her marriage to Darcy.  She had dreaded the time she would have to spend in London, but she quickly learned the art of hostessing the upper crust of society and had pulled it off with warmth and wit.  Darcy had been extremely pleased with her.
Estella had attended an afternoon tea in the company of one of Darcy's friends, and she and Elizabeth had taken to each other quickly. They laughed as they compared notes on Darcy's aunt and Estella's.  Two unusual creatures, to be sure. Miss Havisham had been disappointed in love, deserted on her wedding day many years earlier. She lived with all the wedding finery still in place, including food, flowers, and clothing that had slowly rotted away over the years.
And finally, here she was.  She was greeted with great warmth and relief by Estella, who had her own  warped memories to deal with.  Growing up with such an aunt as hers had certainly marred her ideas of herself and of others. She and her fiance, Philip, had a most difficult beginning.  It was really quite amazing that they had managed to resolve their differences.
Estella helpd Elizabeth settle in a room that was very nicely kept, and then she  escorted her to her aunt's wing of the huge house. This?  This was beyond Elizabeth's imagination.  Estella had tried to describe it, but the reality was much worse than she had thought.
Miss Havisham sat in a throne-like chair that was draped with netting  that hung from  a metal loop that had been fixed to the wall. The chair was wide enough for two, and had been intended for the newlyweds to use at the wedding feast. The netting was tattered. It fluttered around Miss Havisham with every  whisper of movement.  She herself, still bedecked in her wedding dress, was so old that Elizabeth expected her to dissolve into dust if any breeze should touch her. She still wore her bridal headpiece, with the veil swathed around her face and shoulders. She stared vacantly at nothing.
"Aunt, here is a dear friend come to visit you," said Estella. "Her name is Mrs. Elizabeth Darcy.  Her husband is Fitzwilliam Darcy.  I'm sure you've heard of him.  He is quite the wealthiest man in his county."
"Darcy?" quavered Miss Havisham. "I know no one by that name. Why is this person come to visit me?  I'm sure we have nothing to say to one another."
"Aunt, please, I've invited her to come to try to cheer you. She is well-read, and witty and bright. I'm sure you will have much to discuss with her," pleaded Estella.
"Come closer, girl.  No one will light enough candles for me.  I can't see you at all."
Elizabeth, overwhelmed by the decay, the stench, the sorrow of the setting, stepped forward and curtsied. She smiled at Miss Havisham and said, "I'm pleased to meet you, Ma'am.  Your niece and I are great friends, and I hope to enjoy making your acquaintance as well."
"Nonsense. Utter and complete nonsense."  Miss Havisham squinted up at Elizabeth, studying her carefully. "Well, you do seem to have fine, intelligent eyes.  And you certainly know how to dress, although I can't imagine why fashion has become so immodest as to show so much bosom. Can't you cover yourself?  It's outrageous!"
Elizabeth took the shawl that hung from her elbows and put it around her shoulders, crossing it high in the front. She dimpled at Estella, then turned to Miss Havisham and said, "There. That should cover things quite nicely.  Tell me, Miss Havisham, how long has it been since you were out of your house?  It's a fine day outside. Perhaps we could go for a short stroll in your gardens."
"Impudence!  I never leave this house.  I leave this room only for my bedchamber. Never think that you will persuade me otherwise!"
"Most certainly, Miss Havisham, we will stay in if you wish.  Only I would think you would enjoy being out so that your rooms could be set to rights—"
"How dare you!  How dare you come into my home and tell me it needs to be 'set to rights'!  These rooms will stay just as they are, so that no one ever forgets the great wrong done to me!"  With these words, Miss Havisham gave a rasping cry and turned her face away.
"Miss Havisham, I assure you I meant no harm. Let's talk of something else.  Tell me, do you read? Do you enjoy romantic novels, or religious treatises, or history?"
"Estella!  Estella!  Get this young woman out of my rooms and out of my house!  She has no reason to be here!  You're trying to move me to change my life, and I WILL NOT!  I will DIE in these rooms, in these clothes because it is here that my life truly ended!  There is nothing to live for. . . .nothing. . . .nothing at all. . . ."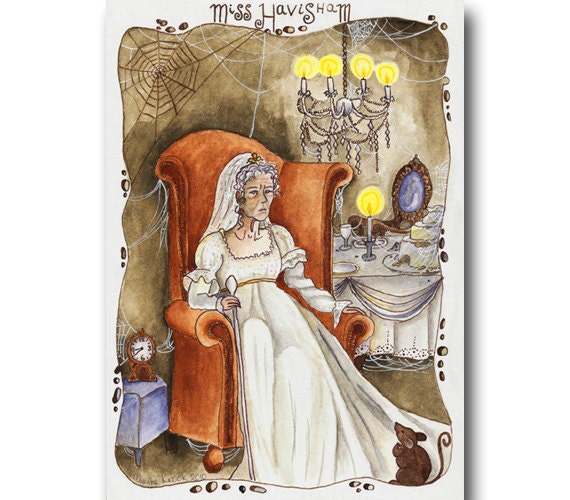 As MIss Havisham wept, Estella and Elizabeth backed out of the room.  Estella sighed, shaking her head in despair. "You know, Lizzie, I believe she will indeed die here, just as she said.  She wants to. She longs to. I don't know what to do."
"Estella, my dear friend, you have tried everything.  Doctors, ministers, companions, even a pet dog. I don't believe there is anything that will make her change her mind, and it's not your fault."
Elizabeth spent two more days with her friend, not seeing MIss Havisham again. She was immensely relieved to travel back to home and to Darcy, feeling the gloom of Miss Havisham's house lifting with every mile that passed.
It was two weeks later that the letter came from Estella.  Miss Havisham had died in a fire that started when a burning candle toppled over, and the flame caught in the wispy remains of her wedding gown.  It was a terrible fire.  It was very likely that MIss Havisham had died from the smoke before she was too badly burnt.
Her lonely vigil was at last ended, and Elizabeth could only be glad that Estella was finally free to go on with her own life, she and Pip.
(Characters are from Jane Austen's Pride and Prejudice and Charles Dickens' Great Expectations)
https://dailypost.wordpress.com/dp_prompt/pleased-to-meet-you/